It's too hot to go outside right now, but it is certainly time to start thinking about the herbs that are going to be handy as tinctures this coming fall and winter. From the Jan/Feb '03 issue of The Essential Herbal, Roxann Phillips explains her flower tincture......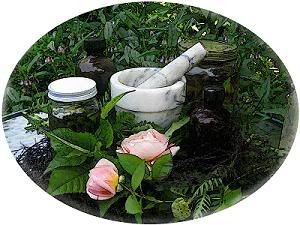 In my garden, I grow an assortment of plants from which I harvest parts all season long for their medicinal virtues. (When I say that I pick the flowers, what I really mean is the flower along with stem and leaves attached.) When the Echinacea purpurea is blooming, I pick flowers and put them a jar filled with 70% ethanol (usually diluted Everclear). When the yarrow blooms, some of those are added. Of course, the Beebalm flowers are desired, and they add a pretty color, as well as antiviral properties. Anise hyssop flowers go in when they arrive and lemon balm leaves are gathered as I pass them on the way to the elderberry tree. This plant would normally grow as a shrub, but I've pruned it to grow as a tree and it has a beautiful canopy that shades the horse's water trough now. When the berries are plump and juicy, I gather a handful and add them to the jar. Then I put the jar on the shelf to steep for a few months, and by the time winter and the accompanying sniffles arrive, I'm ready! We use it at the first sign of an illness, no matter what type, and the symptoms are gone in short order. If we didn't respond soon enough and a full-blown illness erupts, I'll add some Usnea tincture to the flower tincture to ramp up the power.

Roxann Phillips, www.AncientEarthWisdom.com, offers herbwalks, expeditions and workshops from her property located in the Arkansas Boston Mountains.