My sister was gifted with a couple comp tickets for the renaissance festival where we honed our "herb lady" skills. This was where we became the Twisted Sisters. 10 years later, we were still greeted as The Twisted Sisters! But I digress. Our friend Laura who owns a jewelry shop at the fair sent us tickets, and we grabbed Molly and set out on this cool blustery Autumn day. We were very happy that the Queen who'd been there when we were there - the delightfully effervescent Kate Ramsey was again Queen this year. As a wee nipperkin, Molly used to accompany her in various roles. Molly's favorite year was the first year Kate was a gypsy. Kate had been given doctor's orders to remain mute for 6 weeks, so she and Molly did some sort of sign language, running about the shire snitching shiny things and playing. It was so much fun for her. It was wonderful to see her again.


One of the things that really bothered us was all the anachronistic crap we saw. When we were there, the faire was very authentic. We were not allowed watches, spoke always in dialect, and the management was very strict. Today we saw employees wearing (gasp!!!) sneakers, and even worse, one of the acts announced a sport score during a show. It was sad. Below you will see members of the cast wearing wings. Oh Please!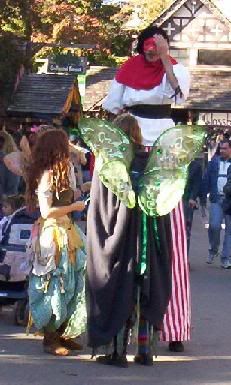 At the Mud Show - where the Mud Beggars really get to show their stuff - there were some specialized souveniers. T-shirts were available saying "A Higher Level of Stupid" and "Got Milk", but my favorite item were these stickers.


The ubiquitous ovals with initials standing for destinations are on everyone's car these days. One of my friends and I often discuss the need to get out of the mud when we are feeling less than on top of the world, and I just loved these stickers.


Our friend Mark Shira is still potting and making incredible mugs and chalices from clay. He is never less than hilarious, always over the top, and great fun to visit with. We met him our first year when he made the unusual request of wolfbane - for his wedding. Hmmmm. We also visited with Judy Johnson at the crossroad, and her shop overflowed with incredibly beautiful stuff.... bird baths, garden sculpture, and unique, gorgeous "stuff". We saw Mark the Jester, Val the Rock Vixen, and Lanky Hemptwister. Most of our friends are gone, however.


And then.... the band that would have made it all worthwhile even if we had payed to get in. Corvus Corax was making their US debut from Germany. OMG are they ever HOT! Its hard to describe their music, but it is medieval songs, played on handmade instruments the likes of which I've never seen. They were all researched and reconstructed. Belly dancers were everywhere, and the percussion was incredible. Something like bagpipes - but not quite, and lots of vocals in various languages. The music was great, but the presentation was so cool. They were all wearing some sort of loincloths beneath long brocade coats with these genie type boots (curled toes) that were huge and had very thick soles - making them very tall and very lean looking. It was like Kiss in the 1500's. www.corvuscorax.de is their website. We got their Cd and played it on the way home - causing Molly to shake her head while Maryanne and I danced and shimmied in our seats. They were awesome!
We figure once every 5 or 10 years is plenty, but it was good to see our friends - and to see how very right we were to leave when we did.